partridgeburd asked: Let's have a really intense game of rock, paper, scissors. If you lose you're waking up in a pool
My Questions and Concerns
Will we be using the USARPS rules, or the international standardized rules?
Will this be a pool of water?
Or will this be a pool of blood??
Specifically, will this be my blood?
Will I be missing one or more vital internal organs?
hold up, is it a Jell-O pool?
is the pool a kiddie pool or a wading pool or an olympic pool (and if so, is it in meters or yards???)
Going back to the internal organs—-I doubt the black market wants mine. Just so you know. Some of my parts are slightly defective, and I'd hate to give someone a lemon of an organ.
Do you really think you're ready for the intensity of this game of rock, paper, scissors? Because I don't know if there is any way to be ready for the level of broughtness that I bring when I bring it.
I JUST HAVE A LOT OF QUESTIONS, OKAY.
Anonymous asked: Forgive me if you've gotten this question, but how do you outline?
Anon, I've been staring at this question for a good twenty minutes, and I don't know how to answer it. I don't know how to answer it because I am a goddamn mess, and I don't want to teach anyone my bad habits. I don't know why my writing process works for me. Rationally, it shouldn't. Not when I work like this. I have ADD, and instead of fighting it, I forgive myself for being scattered and just roll with it. I work on multiple things simultaneously. That's one of the reasons that I update in bursts—-I work on things in chunks. I vacillate between being hyper focused and scattered. Instead of letting myself use my scattered days as an excuse not to write, I set up a couple of stories that I want to make progress on and move through them. I hate MS Word because I don't need MORE things to distract me, so I use TextEdit to write. Editing comes later; when I'm writing, those little squiggly red and green lines have to fuck right off. But that's writing process, not outlining.
I wonder sometimes if my writing style is helped by or hampered by my ADD. My outlining process is kind of convoluted, but only because I have to compartmentalize in order to get things finished. I usually have one idea or image that I start with, then branch out from there. I know that a lot of writers have kind of arbitrary ways of cutting chapters up, but I have to be strict with myself. No scene can be in there "just because". Every chapter has its own loop that needs to be completed, and every section needs to feed into that—-as well as into the overall arc of the story. Argh, this is difficult to explain in abstracts, so let me go back to familiar ground (aka NDND) to explain what I mean.
Let's take chapter five of NDND. The theme of this chapter was redemption and forgiveness, the rise before the eventual fall. The scenes break down like so:
Damian and Steph fight Zsasz → Steph saves Zsasz, setting him on the path to "redemption". Damian doesn't believe he should be forgiven, both because of Zsasz's crimes and the internalized hatred that Damian has for himself, projected on Zsasz.
Steph has a nightmare → Steph and Damian discuss her "redemption" through death, and Batman's role as savior. Damian struggles with the idea of forgiveness.
Damian and Steph meet Jason → Damian refuses to forgive Jason because that is what his father set in stone.
Bat bondage → Damian has to give up control and allow Steph to redefine his father's law. He has consciously realized that he looks to her for guidance.
Jason and Steph's milkshake date → Steph extends the olive branch, letting Jason know that she won't fight him, and that she won't force Batman's ideal of redemption on him.
Damian and Milagro → Damian realizes, for the first time, what Steph's loss will do to him. It's a taste for what's to come.
Damian and Steph discuss what really happened to Bruce and Dick → Steph offers Damian the same forgiveness that she gave Zsasz, which Damian both desperately needs and fears. This loops the first scene with the last one. There are three moments of forgiveness, and the second of the three times that someone offers Steph sanctuary (first Tim, then Jason, then Loveless).
When I write a structured, long-form story, every chapter has to loop like that. I'm driven by repetition and odd numbers (which someone caught and explained on my TV Tropes page. It still boggles my mind that that page exists…). Ultimately, if you can't explain what a scene is bringing to a story, it shouldn't be there. EVERYTHING should serve a purpose. I'm not as strict with myself when it comes to my "drabbles", but my self-contained, novel-length stories need to have outlines like that one.
When I start with my outlines, they're a disorganized mess of bits of dialogue, references, big picture ideas, and descriptions. I never let go of an idea. Large chunks of text are never deleted; they're just moved to another file. If I'm stuck on a sequence of events, I write them down on notecards and play around with them—-sometimes, physically organizing thoughts like that helps.
I don't know if I answered anything for you, anon. But I tried.
loxes asked: but kitty did you ever find out if owls have friends D:
I'm around 82% sure that they don't.
Suddenly, the Court of Owls makes so much more sense. Say what you want about Bats—-at least they understand the general steps involved in hugging.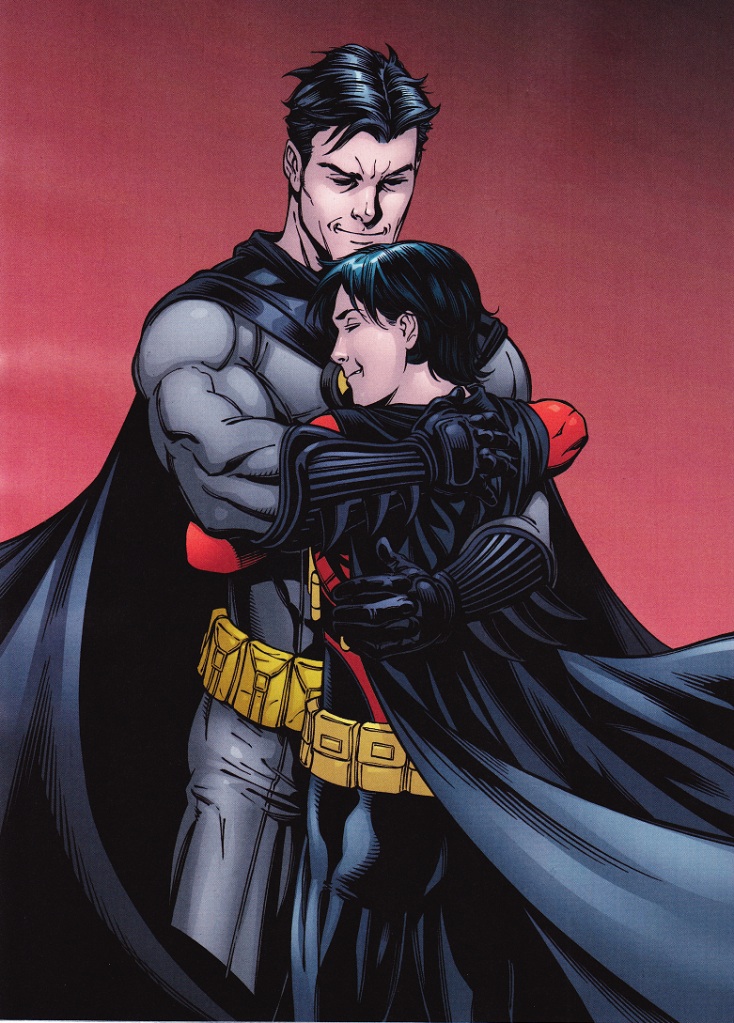 Anonymous asked: I love you for all these fanfics and your amazingness but I hate you because now I have to read theM ALL.
Anon, a couple months back, I sat down and read all of the NDND universe over again. For one reason or another, I don't have a very good memory for the things that I've written myself. I can recall exact passages from other books that I've read, but when it comes to my own work, I have a goldfish memory. It's useful, because when I let something sit for a couple of months, I can go back and edit it like it's someone else's work. (Incidentally, it's something that I've really wanted to do with NDND. When I started it, I had an extremely limited grasp on the DCU. I was partially convinced that Jason was a for real zombie. So there are a lot of things that I'd tweak, were I to go back and edit it now. At the same time, I'd rather learn from the mistakes I've made and apply that knowledge to future stories than rewrite an old fic until I'm happy with it.)
Anyway. When I was done with the read-through, I was like DANG, that took HOURS. People have read my crap for HOURS.
I'm stealing so many hours from so many people and I ain't even sorry.
dianoetic
replied to your
post
:
I didnt realize it until now, but I think your Steph is chubby headcanon is also mine! Like not fat chubby, but a more solid build than Babs and Cass. Cause you know Babs was a gymnast and even though Cass is muscular and probs the best fighter I still imagine her as small.
Chubby is often subjective. And Kitty loves fat girls, I will personally vouch for this.
Exactly! Some people use "chubby" as "not skinny, but not fat", and that honestly kind of bothers me. There is no line that you cross over from chubby to fat to me, so a girl with a pinchable inch is chubby, as well as a bigger girl. Furthermore, chubby is interchangeable with adorable in my personal lexicon. Sometimes, I forget that so many of my followers don't actually KNOW me, so they don't realize that "chubby" is an endearment when it comes from me, not any kind of demarcation.
Anonymous asked: I didn't realize it until now, but I think your Steph is chubby headcanon is also mine! Like not fat chubby, but a more solid build than Babs and Cass. Cause you know Babs was a gymnast and even though Cass is muscular and probs the best fighter I still imagine her as small.
When it comes to the established height/weight stats of characters, I tend to take it with a great big bag of salt. For superheroines, "standard" size seems to be 5'6" and 120 pounds. Cass' official stats fluctuate between 5'5" and 115 pounds, Steph is either 5'5" or 5'6" and either 110 or 129, and Babs is somewhere between 5'7" and 5'11", but at 126 pounds at both heights. I don't really buy into…any of that, to be honest. Comics aren't known for being realistic in their portrayals of women, much less women of varied body types.
…I just need to sit down and write up a body type headcanon post for the Batgirls like I did for the boys, don't I?
(As an aside, I almost feel like I kind of need to apologize for using the word "chubby" on my reblog of that lovely Steph piece, since it seems like it sparked a bit of friction on what does and doesn't constitute "chubby". When I used it, I meant it in "not as lean as most women are depicted in superhero art". 100% disclosure—-I find heavier women the most attractive, so when I see art that reflects that at all, I make flappy hand motions and don't choose my words as carefully as I usually might. I'm deeeefinitely a fat-positive person, so any art that gives me more variety than chiseled and lean makes me happy. I just dig bodies—-the more variety, the better.)
Anonymous asked: did you know that there's a comic book with captain america and batman in it? if you google Batman and Captain america it will pop up. it has BUCKY and ROBIN in it. just thought you might like to know.
I did know, yes! It's an Elseworlds story, but it's dear to my heart despite the campiness of it. With me, the rule of thumb is if a comic has Bucky in it, there is a 90% chance that I have read it. (And if Tom Raymond's in it, the likelihood rises to 97%. I love me my dead sidekicks, okay.)
Anyway. In that story, Steve and Bruce trade sidekicks and wear each other's clothes. It's pretty great! The Penpal Adventures were semi-based on a universe like that Elseworlds c:
Anonymous asked: How does it feel to get fan art and are you trying to get a professional career in writing? Because your writing is so elaborate and well thought out and beautiful and you'd be better than some writers out there, I think.
Oh gosh, getting fanart is the best feeling. I think of it as a time investment thing. With fic, you're asking your audience to invest time—-hours of their time, most likely. Fanart for a fic is a visual representation of what the artist got out of it, as well as proof that they found the writing inspirational. So when I get fanart, it says to me that someone liked something I wrote so much, they not only spent hours reading it, but they spent more time producing something in its honor. I made them happy, and the images that I wrote about affected them so deeply, they spent time and creative energy expressing that. To me, that is a really BIG DEAL.
And as far as writing goes, yes, I am trying to get published! Right now, I'm working on a series of original superhero novels (which are very queer, POC, and lady-friendly, because this is me and I have Priorities), as well as a music + martial arts novel that I'm co-writing with my good friend spacetwinks. Working on two original novels, my usual ton of fic, and the technical writing I do on top of my full time job, I spend a lot of time glued to a keyboard.
Fortunately, I don't have a social life. It works out pretty well for me.
ohhdev
replied to your
photo
:
I was just looking at my desk this morning and…
Aaaaah where did you get the photos on your wall? I MUST have them!
Those are three signed prints by Steve Epting—-the first prints I ever purchased at my first comic convention. Epting and Brubaker's Captain America run is what really made me fall in love with superhero comics, so I was an embarrassing individual when I stumbled up to his booth. He asked me what I wanted, and before I could stop myself, I said "I JUST WANT EVERYTHING???" He gave me all three prints for a steal, possibly because I was just so awkwardly enthusiastic. You can get his prints (and his signed sketchbook) on his website, here.
Anonymous asked: what comic is the Captain America Bucky Bear from?
It's the A-Babies vs. X-Babies spinoff from Avengers vs. X-Men. The Mighty 'Vengers have been featured in the X-Babies before, but this one-shot will be parodying the last event, I've heard.
Avengers vs. X-Men was a terrible event, but I am totally on board for babies. KEEP 'EM COMING, MARVEL.
destiny919 asked: if we want to read the good end, and not the bad end, of NDND, (I read the bad end, cried, and now I need cheering up) where should we differentiate? Like, finish with the regular one BEFORE the bad end happens, and then start to have the good end? Like, where does it branch off, change, etc. WHAT SHOULD I DO DAMMIT. *falls on the ground and flails*
Okay, so, if you want to read the good end without hitting the bad end, you'll have to stop reading part seven roughly halfway through. When you hit:
Stupid, stupid woman. He hated her. He hated her so much, it was painful. He hated her so much, he shook and felt like he'd vomit from the force of it.

His mother's tutors had thoroughly indoctrinated him on the concepts of nature, on Darwin and biological imperatives. He'd been meant to be above such things, such base desires, and as a child he hadn't thought it would ever be a challenge. Love was chemistry: serotonin, dopamine, norepinephrine, and phenylenthylamine. It could be replicated, could be synthesized. He'd scoffed at the idea of animals that mated for life, of swans that twined their necks together like the arches of a heart, of wolves that starved to death in mourning when their mate died prematurely. He hadn't been able to wrap his mind around loving someone so much, you couldn't imagine a future without them.

He understood it, now.

But, he reflected as he sat on the edge of the bed, staring blankly at the square of floor between his bare feet, he was not a son of Darwin. He was not a creature created by natural selection, a man possessing only his inborn gifts. He was an instrument, bred for a very specific purpose.

And that was why, instead of folding in on himself and dying like he wanted to, Damian reached for his cowl.

He was Batman. Justice. The son of his father, the inheritor of his burdens. He had given up his soul for this, so he had to make it worth his sacrifice. This was what his father, the Batman, would have wanted him to do.

That was what mattered.

That was the only thing that mattered.
STOP. Do not read any further. There is only sadness and soul-punching from that point on. Instead of finishing that part, switch to the first part of You Left Me in the Dark. That will successfully get you to the good!end without putting you through the bad one.
I'll never understand why people make YOU SHOULDN'T BE MAD posts in character tags when drama goes down. Do they expect someone to reblog it and thank them for making that post because it made them reevaluate the opinion that apparently wasn't valid in the first place? IDK, but it seems to me that invalidating their anger isn't going to make them less angry.